I review a couple dozen books a year on GoodReads, but I primarily post reviews of my favorite authors on this website.  They include: John Hart, John Grisham, Michael Connelly, Vince Flynn, Sue Grafton, plus several others writing suspense novels.
Being a self-published Indie author, I will also post a review of a fellow aspiring author occasionally.
---
Set in a small North Carolina town, Redemption Road is the story of Liz Black, a female police officer accused of killing two men, Adrian Hall, a decorated policeman who served 13 torturous years for murder, and Gideon, a 14-year-old boy determined to avenge the killing of his mother. They each seek to escape their past by going down intertwined paths filled with death, danger and intrigue.
The book is multidimensional with parallel stories developing around each protagonist, bringing in a support cast and interesting twists along the way. Hart is a master at delivering literary thrillers, making you love and hate his characters, and holding you in suspense with carefully crafted prose. He knows crime, law, and small town North Carolina. He has the uncanny ability to live within his characters, knowing how they would act and react. Most of all, he knows how to write.
I've purchased and read all of Hart's books. In my opinion, Redemption Road is the most thrilling. I tore through the final 150 pages without moving from my chair. Just when I thought I could set the book aside, the next page would pull me in. I anticipated each move, and was wrong most of the time.
If you like Connelly, Grisham, and Flynn, you will love John Hart.  5 Stars
---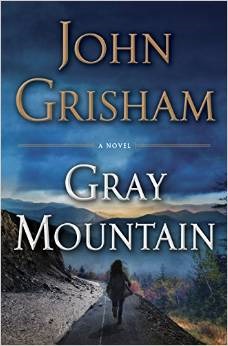 John Grisham takes on big coal companies in his latest novel, "Gray Mountain." The story is told through the eyes of Samantha Kofer, a former associate at a big Wall Street law firm. Samantha loses her job after falling victim to the financial meltdown of 2008 and ends up in a small Appalachian town in Virginia working for a legal aid clinic.
Samantha is the product of divorced lawyers–a high profile litigator father who was disbarred after being convicted of hiding ill-gotten assets in offshore accounts and a mother bursting with self-importance employed by the federal government in a high-paying, risk-free legal role—not exactly the role models to prepare her for what she'd find in Appalachia.
I guess the intent of telling the story through Samantha, a sheltered, rich, city girl, was to contrast her life with the horrors of mountain top strip mining and the poverty in Appalachia, making the atrocities inflicted on destitute residents by the evil corporate coal companies appear even more appalling to the reader. To some extent, it worked.
I did have empathy for Samantha as she found herself torn between her discomfort with courtroom litigation and her desire to get what the abused, poverty-stricken clients she represented deserved. But then, it's hard to have too much empathy for a spoiled girl who could run back home to New York and be bailed out at any moment by her rich parents. As a result, I found myself relating more to the supporting cast of local, small-town residents than to Samantha.
Early on, I thought it would be a story of the city mouse (Samantha) moving to the country and falling in love, or at least becoming immersed in the lives of the townspeople, eventually finding herself at odds with ever going back to the city. But that story never really developed, or if it did, I wasn't convinced.
I still gave the book 4 STARS, although was tempted to give it a 3. As usual, Grisham delivered a well-written, fast-moving legal novel about tragic environmental and health issues facing the residents of coal mining states. These issues were likely his motivation for writing the novel. I was enlightened to the issues. I just never got that wrapped up in the characters.
---
I hadn't read a western in a long while, and The Last Wolf was a great book to venture back into the genre.
The story's set in the 1880s at the end of the Old West era. Ruby Winter was the lone survivor in a brutal attack levied against her family by a gang of men and soulless female killer. They blew up the Winter's home and left Ruby for dead with a stab wound to her stomach.
A nearby physician and his daughter came to Ruby's aid. After several months in a coma, the young woman returned to life. Once well enough to travel, Ruby had vengeance on her mind. She recalled one of the killers referencing Hopesfall, so she saddled up and headed to the lawless town with her father's six-shooters strapped to her side. And so begins Ruby's mission to seek revenge on each of the killers.
The author, Ben Edge, did a great job developing Ruby as the main character. Her actions and dialogue were authentic and fitting to the scenes. Supporting characters were less developed but complimented Ruby and the story well, especially McCauley who came to Ruby's aid after she reached Hopesfall. I also felt description of the lowly town of Hopesfall was well done, and you couldn't help but hate the killers.
The action was face-paced and suspense preceded each shootout and brawl. I felt the story and entertainment value warranted a five-star rating.